Those Were the Days
WDCB is very pleased to present "Those Were the Days," a program that has played a prominent role in Chicago's radio history for more than 35 years. Drawing from a vast library of material each Saturday, Steve Darnall presents old-time radio classics & music.
You'll find the complete schedule for every Those Were the Days program—along with great articles about the Golden Age of Entertainment—in ever issue of Nostalgia Digest magazine!
Click here to order!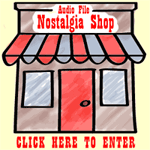 Click here to enter the Nostalgia Shop, where you'll find hundreds of hours of classic old-time radio on compact disc and much more!
This program is available for sponsorship! (Contact Ron Horan for more details.)
---
Upcoming Programs
Oct 27th: Annual Hallowe'en Show

Inner Sanctum, The Shadow, Weird Circle, Great Gildersleeve, Screen Directors' Playhouse, Mystery House
Nov 3rd: Aldrich Family, Lux Radio Theatre, Olsen and Johnson Show, Your Daytime Radio Newspaper, Bob Hope Show

Nov 10th: Radio from the Prairie State

Dick Jurgens and His Orchestra, Little Orphan Annie, Breakfast with the Johnsons, Curtain Time, Man on the Farm, Destination Freedom, Jack Benny Program
Nov 17th: Annual Thanksgiving Show

Jack Benny Program, Quiz Kids, Philco Radio Time, Casey, Crime Photographer, Soldiers in Greasepaint
Nov 24th: Radio To Get Into the Holiday Spirit By

Adventures of Ozzie and Harriet, Guest Star, Command Performance, This Is Your FBI
Dec 1st: Radio To Plan Your List By

Phil Harris-Alice Faye Show, Tom Powers' Life Stories, Edward R. Murrow, Fibber McGee and Molly, Harold Peary Show, Hallmark Hall of Fame
Dec 8th: Radio To Address Cards By

Broadway Is My Beat, Christmas Seal Campaign, Suspense, Christmas Package, Columbia Workshop, Screen Directors' Playhouse
Dec 15th: Radio To Wrap, Bake and Decorate By

Kraft Music Hall, Boston Blackie, The Big Show, World News Today, Fibber McGee and Molly
Dec 22nd: Merry Christmas!

Coronet Little Show, President Franklin D. Roosevelt, Jimmy Durante Show, King George VI, I Sustain the Wings, Jack Benny Program, An Old-Time Radio Christmas Carol
Dec 29th: Happy New Year!

Radio Hall of Fame, Fibber McGee and Molly, Suspense, Gene Autry's Melody Ranch, Jack Benny Program
---
Previous Programs
Oct 20th: They Call Me Joe, Henry Morgan Show, Speaking of Radio, Jackie Gleason-Les Tremayne Show, Gunsmoke, Jack Benny Program

Oct 13th: Jack Benny Program, Suspense, Vic and Sade, Cavalcade of America, Fibber McGee and Molly, Theatre Five

Oct 6th: Those Were the Days Number 2,500!

Sep 29th: Radio in the Fall of 1943

Words at War, Bob Hope Show, Treasury Star Parade #273, Dimes for Invasion, World News Today, The Whistler, Fibber McGee and Molly