Those Were the Days
WDCB is very pleased to present "Those Were the Days," a program that has played a prominent role in Chicago's radio history for more than 35 years. Drawing from a vast library of material each Saturday, Steve Darnall presents old-time radio classics & music.
You'll find the complete schedule for every Those Were the Days program—along with great articles about the Golden Age of Entertainment—in ever issue of Nostalgia Digest magazine!
Click here to order!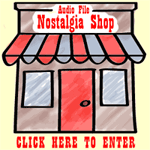 Click here to enter the Nostalgia Shop, where you'll find hundreds of hours of classic old-time radio on compact disc and much more!
This program is available for sponsorship! (Contact Ron Horan for more details.)
---
Upcoming Programs
Aug 18th: Time Marxes On!

You Bet Your Life, Five-Star Theatre, Fitch Bandwagon, Burns and Allen Show, Monitor
Aug 25th: Lone Ranger, Spotlight Revue, Couple Next Door, John W. Vandercook, Suspense, Phil Harris-Alice Faye Show

Sep 1st: Big Bands of the Late 1930s

Glenn Miller and His Orchestra, Rudy Vallee and His Connecticut Yankees, Saturday Night Swing Club, Bob Crosby and His Orchestra, Hal Kemp and His Orchestra, Red Nichols and His World-Famous Pennies, Benny Goodman and His Orchestra, Our Special Guest Karl Pearson
Sep 8th: President Franklin D. Roosevelt, Kraft Music Hall, Richard Diamond, Private Detective, Jack Benny Special Program, Claudia, Space Patrol, Duffy's Tavern

Sep 15th: Our Miss Brooks, Bold Venture, Screen Directors' Playhouse, The FBI in Peace and War, Kraft Music Hall, World News Today

Sep 22nd: An Afternoon with Bill Persky and Friends

Funny Side Up, Speaking of Radio, Ginny Simms Show, The Third Man, Drene Time
Sep 29th: Radio in the Fall of 1943

Words at War, Bob Hope Show, Treasury Star Parade #273, Dimes for Invasion, World News Today, The Whistler, Fibber McGee and Molly
---
Previous Programs
Aug 18th: Time Marxes On!

You Bet Your Life, Five-Star Theatre, Fitch Bandwagon, Burns and Allen Show, Monitor
Aug 11th: Stage Door Canteen, Speaking of Radio, One Man's Family, Mr. and Mrs. Blandings, Raymond Gram Swing, Milton Berle Show, Green Hornet

Aug 4th: X Minus One, Good News of 1939, Paul Schubert Commentary, Bill Stern Sports Newsreel, My Favorite Husband, Box Thirteen

Jul 28th: President Franklin D. Roosevelt, Birds Eye Open House, The Falcon, Adventures of Maisie, Red Skelton Show, Lights Out

Jul 21st: Cavalcade of America, Charlie McCarthy Show, Lux Radio Theatre, Adventures of Ozzie and Harriet, Open Letter on Race Hatred