Those Were the Days
WDCB is very pleased to present "Those Were the Days," a program that has played a prominent role in Chicago's radio history for more than 35 years. Drawing from a vast library of material each Saturday, Steve Darnall presents old-time radio classics & music.
You'll find the complete schedule for every Those Were the Days program—along with great articles about the Golden Age of Entertainment—in ever issue of Nostalgia Digest magazine!
Click here to order!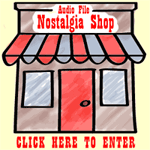 Click here to enter the Nostalgia Shop, where you'll find hundreds of hours of classic old-time radio on compact disc and much more!
This program is available for sponsorship! (Contact Ron Horan for more details.)
---
Upcoming Programs
Feb 23rd: World News Today, Jack Benny Program, Eddie Cantor Show

Mar 2nd: The Stars of the Silent Screen Speak - on Radio!

Suspense, Old Gold Comedy Theatre, Adventures of Nero Wolfe, Rudy Vallee Show, Our Special Guest Bob Kolososki
Mar 9th: Bob and Ray, Fibber McGee and Molly, Quiet Please, Kraft Music Hall, Mystery Chef, Sealtest Village Store, New World A-Comin'

Mar 16th: Adventures of Superman, Great Gildersleeve, The Whistler, Uncle Sam Presents, Sherlock Holmes, Red Skelton Show

Mar 23rd: Phil Harris-Alice Faye Show, Night in a Fox Hole, X Minus One, Speaking of Radio, Suspense, Your Hit Parade

Mar 30th: The Doctors Are In!

Doctors at War, Story of Dr. Kildare, Crime Doctor, Joyce Jordan, MD, Dr. Sixgun, Strange Dr. Weird, Dr. Christian
---
Previous Programs
Feb 16th: Jack Benny Program, Treasury Star Parade #255, Lux Radio Theatre

Feb 9th: Jack Benny Program, Suspense, Fred Allen Show

Feb 2nd: Jack Benny Program, Speaking of Radio, Love Thy Neighbor Premiere

Jan 26th: Radio in the Winter of 1944

America Salutes the President's Birthday, Ten Who Escaped From Tojo. Skelly News, Hop Harrigan, Fibber McGee and Molly, Man Behind the Gun