Sammie Jay
Email: nighttrain@wdcb.org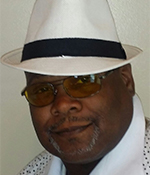 Sammie Jay brings his warm, upbeat personality to WDCB's airwaves every Saturday night during his "Night Train" program. A former College of DuPage student and current resident of Maywood, Sammie Jay has roots in Chicago and Memphis and his show reflects his love of both Chicago Blues and Southern Soul.
His radio career began in the 1980s, spinning gospel and r&b at Chicago stations like WGBX, WBEE, WLNR and WYCA, as well as a stint in Memphis at the legendary WDIA, the historic radio station both B.B King and Rufus Thomas once called home.
Sammie Jay has also proudly sported the title "King of Southern Soul" in Chicago area clubs while working as a deejay, drummer and vocalist. Each summer, he also serves as one of WDCB's prominent emcees on the Crossroads Stage at the Chicago Blues Festival.