What's New on WDCB... with Paul Abella
May 9th, 2022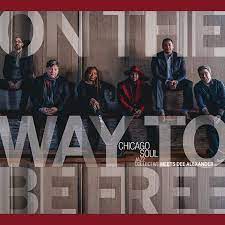 Chicago Soul Jazz Collective with Dee Alexander – On the Way to Be Free (JMarq)
Chicago Jazz fans have long known that Dee Alexander is one of the city's finest vocalists. And in the past few years, we've come to discover what a potent band The Chicago Soul Jazz Collective is, too. So, put 'em together and you get a great Jazz band, and a great R&B band while they're at it. On the Way to Be Free is a deeply funky album, dripping with soul. Everything about this album feels like the best that Jazz in the 70's had to offer, with the texture and feel of Freddie Hubbard's, Joe Henderson's or Gil Scott-Heron's early to mid-70's output. And much like on their last album, this all-original program holds its own with nearly anything coming out of New York, Los Angeles or London at this point in 2022.
---
Tuba Skinny – Magnolia Stroll (self-produced)
I can't tell you how many calls I've gotten during the all-request show on Fridays for this New Orleans band. And while they're all over YouTube (and all over the streets of New Orleans, apparently), they had yet to release an album. Until now. Magnolia Stroll is that CD, and it's pretty great. Comparisons to The Fat Babies/Chicago Cellar Boys will be inevitable. After all, both groups are revivalists of the earliest days of Jazz, and both bands pull it off incredibly well. I have a feeling that a bunch of us are going to have some big fun with this one over the course of the next few months.
---
Aaron Seeber – First Move (Cellar Live)
You ever hear one of those discs that you know is going to be good from the first note? That's what Aaron Seeber's First Move is. Now, it most certainly helps that this young drummer surrounded himself with a preposterously talented crew…Tim Green on alto saxophone, Warren Wolf on vibes, Sullivan Fortner on piano and Ugonna Okegwo on bass, but a band is only as good as its drummer, and Seeber keeps things swinging and hot throughout. This is a varied program, too, from the angular modern jazz of "Brandyn" to the more swingin' and in the pocket groove happening on "Out of the Past" or the subtle and tasty brushwork on "Duke Ellington's Sound of Love." There's a lot to love on First Move, and a lot to look forward to from Aaron Seeber.