WDCB presents monthly "Sammie Jay's Soul Blues Party" …on the third Wednesday at T & JJ's in Maywood
December 16th, 2016
WDCB is partnering with T & JJ's Banquet Hall and series sponsor Currie Chevy in Forest Park to present "Sammie Jay's Soul Blues Party." The new monthly music event is hosted by our own Sammie Jay, host of WDCB's Saturday night blues program "Night Train." The series kicks off Wednesday, December 21 featuring soulful Chicago singer Willie White.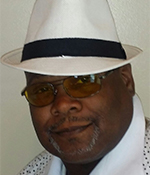 "Blues music moves the spirit and calms the soul," says Sammie Jay, a Maywood resident. "No matter what is going on, when I hear blues it picks me up and gives me energy." As emcee for the series, Sammie Jay brings that energy to the stage, encouraging the audience to enjoy themselves and the music, even stepping up to occasionally join the band on stage for a song or two as guest vocalist.
T & JJ's - also home to the "Rebirth of Jazz in Maywood" series - is a classy but comfortable setting for live music, with great food and easy, free parking just steps from the venue's entrance. The new event is a point of pride for us, says the "T" in T & JJ's, Theresa Wilson. "We appreciate WDCB and our sponsor Currie Chevy for working with us to present blues to Maywood and the western suburbs."
Always the third Wednesday of the month, "Sammie Jay's Soul Blues Party" kicks off on December 21 with one of Chicago's most powerful, soul-inflected blues singers, Willie White, whose hit song "Party Hardy" has made him a popular star on the soul-blues circuit. "Willie is a very humble guy but he comes on with such power, he takes people by surprise," says Sammie Jay. "Plus, he likes to interact with the crowd and get people on their feet."
Admission is $10 and doors open at 6:30pm, with live music beginning at 7:30pm. A buffet is available at intermission for an additional $5. The series continues on January 18 with Theo Huff!
We hope to see you at "Sammie Jay's Soul Blues Party!"