Ron Carter, Brandee Younger, and Makaya McCraven highlight 2023 Chicago Jazz Fest lineup!
July 20th, 2023
The lineup for this year's Chicago Jazz Festival has been announced. It includes a mix of NEA Jazz Master Ron Carter, rising stars Makaya McCraven, Brandee Younger and Walter Smith III, and brilliant international talents like South Africa's Nduduzo Makhathini and Cuba's Juan de Marcos. There's also a lengthy list of Chicago stalwarts, such as Alexis Lombre, Ari Brown, Chico Freeman, Tammy McCann, Natalie Scharf, the Chicago Soul Jazz Collective with Dee Alexander, Theodis Rodgers and many more.
For the second year in a row, WDCB, a major media sponsor of the Chicago Jazz Festival, will also partner with DCASE to present a robust lineup of Chicago-based talent (TBA) in Millennium Park throughout the fest at the WDCB Jazz Lounge.
The festival will take place, as usual, on Labor Day weekend (August 31 - September 3) primarily in Chicago's Millennium Park, with additional events at the Chicago Cultural Center and throughout the city. As always, it is a free festival. The fest is presented by Mayor Brandon Johnson and the Chicago Department of Cultural Affairs and Special Events (DCASE) and programmed by the Jazz Institute of Chicago.
There will also be additional free jazz concerts at local venues across the city the week prior to the Chicago Jazz Festival, made possible through the Citywide Jazz Community Funding Program. And WDCB will add to the excitement during festival week with on-air interviews featuring fest performers and live broadcast performances from PianoForte. Listen to WDCB for more details on upcoming events and find more information at ChicagoJazzFestival.us.
Thursday, August 31
(schedule subject to change)
Chicago Cultural Center, Claudia Cassidy Theater
11:00am-12:00pm: The Live the Spirit Residency Young Masters
12:15-1:15pm: Asian Improv presents Francis Wong's "Legends and Legacies"
2:00-3:00pm: Elastic Arts Foundation presents Fred Jackson's Erudition Project
3:15-5:15pm: What is thing called Jazz?
Chicago Cultural Center, Preston Bradley Hall
11am–12pm: Zubin Edalji's Four Windows, Presented by The Hyde Park Jazz Society
12:30-1:30pm: Zack Markstet, Performing Horace Silvers' 1966 release "The Jody Grind," Presented by The Fulton Street Collective
2:00-3:00pm: The Natalie Scharf Quartet, Presented by Illiana Club
3:30-4:30pm: Bobbi Wilsyn, Presented by The South Side Jazz Coalition
Millennium Park, Jay Pritzker Pavilion
6:30-7:30pm: Chico Freeman 100
8:00-9:00pm: Ron Carter and Foursight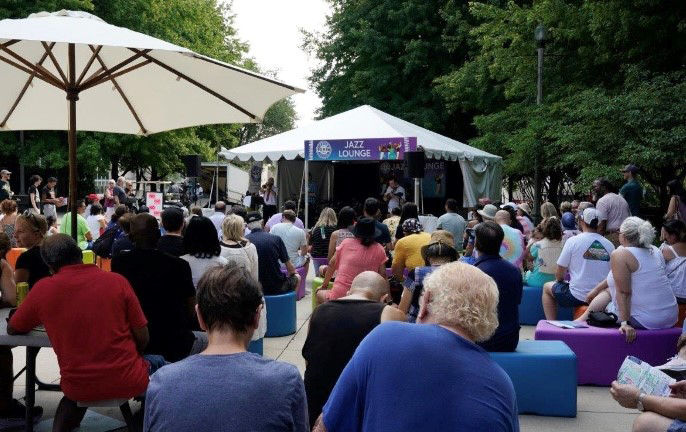 Friday, September 1
(schedule subject to change)
WDCB Jazz Lounge (South Promenade)
12:00-2:00pm: Juli Wood's Eddie Who? A Tribute to Eddie Harris
2:15-4:15pm: Henry Johnson Quartet
4:30-6:30pm: Workshop and Demonstration with Jazz Educator Matt Shevitz's Quartet
6:45-8:00pm: Keri Johnsrud/Shawn Maxwell Quintet
Millennium Park, Von Freeman Pavilion (North Promenade)
Hosted by WDCB!
11:30am-12:25pm: Eric Hochberg String Thing
12:40-1:35pm: Alexis Lombre Quartet
1:50-2:45pm: Anthony Bruno Quartet
3:00-4:00pm: Jeb Bishop Quartet
Millennium Park, Jay Pritzker Pavilion
4:15-5:05pm: Juan Pastor Chinchano
5:25-6:10pm: Walter Smith III Quartet
6:25-7:25pm: Ari Brown Quintet
7:45-9pm: Superblue: Kurt Elling & Charlie Hunter
Saturday, September 2
(schedule subject to change)
WDCB Jazz Lounge (South Promenade)
12:00-2:00pm: WDCB Remembers Victor Parra with the Rene Avila Afro-Cuban Quintet
2:15-4:15pm: Roy McGrath Quintet
4:30-6:30pm: Thaddeus Tukes' Dolphin Dance
6:45-7:45pm: 2 Brown Sisters: Maggie and Africa Brown
Young Lions Jazz (Harris Theater Rooftop, Enter on Randolph St.)
11:00am: Chicago High School for the Arts
11:50am: Midwest Young Artists Conservatory
12:40pm: Lane Tech College Prep High School
1:35pm: Whitney Young High School
2:25pm - New Trier High School
3:15pm - Kenwood Academy High School
Millennium Park, Von Freeman Pavilion (North Promenade)
Hosted by WDCB!
11:30am-12:25pm: Alvin Cobb Jr.
12:40-1:35pm: Devon Sandridge
1:50-2:45pm: Theodis Rodgers Organ Trio
3:00-4:00pm: Carmen Stokes
Millennium Park, Jay Pritzker Pavilion
4:15-5:05pm: Tammy McCann
5:25-6:10pm: Brandee Younger
6:25-7:25pm: Nduduzo Makhathini
7:45-9:00pm: Makaya McCraven
Sunday, September 3
(schedule subject to change)
WDCB Jazz Lounge (South Promenade)
12:00-2:00pm: Workshop and Demonstration on "New Standards" with Paul Abella Trio
2:15-4:15pm: Charles Heath Quartet
4:30-6:30pm: Frank Catalano Quartet
6:45-8:00pm: Guru Tonic
Harris Theater Rooftop (Enter on Randolph St.)
11:00-11:40am: Saucedo Alumni Latin Jazz Collective
12:00-12:40pm: Urban Horizons
1:00-1:40pm: Charlie Reichert Powell & New River
2:00-2:40pm: Neon Wilderness
3:00-3:40pm: Mxmrys
Millennium Park, Von Freeman Pavilion (North Promenade)
Hosted by WDCB!
11:30am-12:25pm: Herbsaint
12:40-1:35pm: Tim Fitzgerald Wes Montgomery Project
1:50-2:45pm: Christian Dillingham Quartet
3:00-4:00pm: Petra's Recession Seven
Millennium Park, Jay Pritzker Pavilion
4:15-5:05pm: The Pharez Whitted Quintet
5:25-6:10pm: Chicago Soul Jazz Collective w/ Dee Alexander
6:25-7:25pm: Billy Valentine
7:45-9:00pm: Juan de Marcos and the Afro-Cuban All Stars
More information is available at http://ChicagoJazzFestival.us
WDCB Jazz Fest Week Concerts
Tue, Aug 29 from 7 to 8pm
WDCB's Jazz Fest Week Live Broadcast!
vocalist Denise Thimes
PianoForte Studios - Chicago
Wed, Aug 30 from 7 to 8:30pm
WDCB Night on the Patio: Black Bear Combo Brass Band!
FitzGerald's - Berwyn