Tom Marker
Email: MarkerT@wdcb.org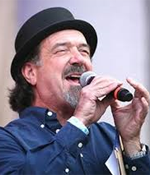 "Blues Time" is hosted by Tom Marker, who has been playing the Blues on Chicagoland radio since 1975, beginning with WJKL "The Fox" in Elgin. Until it ended in 2022, Tom hosted the long-running program "Blues Breakers" on WXRT for almost 40 years. He has been seen often in Blues clubs from the time both he and Muddy Waters were regulars at Harry Hopes in Cary. Tom hosts WDCB's monthly Bluesday Tuesday live performance (and simulcast) every first Tuesday at FitzGerald's Nightclub in Berwyn.

In 1999 he received the "Keeping the Blues Alive" award from the Blues Foundation (located in Memphis, Tennessee), in the commercial radio division. Tom keeps the blues alive in person hosting blues acts at clubs throughout the Midwest, and every summer he has the distinction of emceeing the main stage at the Chicago Blues Festival.

In January 2015 Tom joined the staff of WDCB where he does his part by playing Blues records from 7 to 9pm every Saturday evenings on 90.9FM. Sometimes he likes to go a little bit this way or that from the straight-ahead blues. He plays plenty of the classic blues performers but he likes to feature current Blues, especially from local artists, as Blues Time is definitely a program with a Chicago point of view. And join Tom as he and WDCB combine on the first Tuesday of the month to present our "Bluesday Tuesday" show at FitzGerald's in Berwyn, sponsored by Revolution Brewing.