Those Were the Days
WDCB is very pleased to present "Those Were the Days," a program that has played a prominent role in Chicago's radio history for more than 35 years. Drawing from a vast library of material each Saturday, Steve Darnall presents old-time radio classics & music.
You'll find the complete schedule for every Those Were the Days program—along with great articles about the Golden Age of Entertainment—in ever issue of Nostalgia Digest magazine!
Click here to order!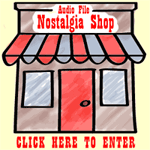 Click here to enter the Nostalgia Shop, where you'll find hundreds of hours of classic old-time radio on compact disc and much more!
This program is available for sponsorship! (Contact Ron Horan for more details.)
---
Upcoming Programs
Aug 26th: An American In England, Bob and Ray, Life of Riley, They Live Forever, X Minus One, You Bet Your Life, President Franklin D. Roosevelt

Sep 2nd: Windy City Bandstand

Benny Goodman and His Orchestra, Orrin Tucker and His Orchestra, Richard Maltby and His Orchestra, Frankie Masters Treasury Show, Duke Ellington and His Orchestra, Eddy Howard and His Orchestra, Our Special Guest Karl Pearson
Sep 9th: Command Performance #30, President Franklin D. Roosevelt, Buster Brown Gang, CBS Radio Workshop, Personal Album, Baby Snooks Show, Dragnet

Sep 16th: Happy 90th Birthday, CBS!

Columbia Workshop, Stars in the Afternoon, Farewell to Studio Nine
Sep 23rd: Big Town, Chesterfield Moonlight Serenade, Lux Radio Theatre, Ben Bernie's War Workers Program, Adventures of Philip Marlowe, Burns and Allen Show

Sep 30th: Take Me Out to the Ball Game!

Chicago White Sox Baseball, World Series Preview, Fred Allen Show, The Saint, Claudia, Destination Freedom, Abbott and Costello Show
Oct 7th: Hollywood Canteen Opening, Don Winslow of the Navy, Lux Radio Theatre, Speaking of Radio, Vic and Sade, President Franklin D. Roosevelt

Oct 14th: Suspense, Bob Hope Show, Nightbeat, Jack Benny Program, Screen Guild Players

Oct 21st: Down Our Way, Speaking of Radio, Aldrich Family, Academy Award, Chase and Sanborn Program

Oct 28th: Annual Hallowe'en Show

Murder at Midnight, Old Gold Comedy Theatre, Sherlock Holmes, Quiet Please, Komedy Kingdom, Inner Sanctum
Nov 4th: Elliott Lewis: A Centennial Celebration

CBS Radio Workshop, Phil Harris-Alice Faye Show, Voyage of the Scarlet Queen, On Stage, Halls of Ivy, Suspense
Nov 11th: More from the War

Armistice Day Ceremony, CBS World News Special, World News Today, Jack Benny Program, Hello Americans, Special Mileage Rationing Program, Troman Harper, Rumor Detective
Nov 18th: Annual Thanksgiving Show

Readers' Digest Radio Edition, Cinnamon Bear, Great Gildersleeve, Thanksgiving Day Service, Kraft Music Hall
Nov 25th: Radio to Get Into the Holiday Spirit By

Duffy's Tavern, Cinnamon Bear, Yours Truly, Johnny Dollar, National Barn Dance
Dec 2nd: Radio to Plan Your List By

The Shadow, Cinnamon Bear, Command Performance, Gunsmoke
Dec 9th: Radio to Address Cards By

Living 1948, Cinnamon Bear, Henry Morgan Show, 21st Precinct, Fibber McGee and Molly
Dec 16th: Radio to Wrap, Bake and Decorate By

World News Today, Cinnamon Bear, Great Gildersleeve, Texaco Star Theatre, Cavalcade of America
Dec 23rd: Merry Christmas!

Fibber McGee and Molly, Cinnamon Bear, Mayor of the Town, Soldiers with Wings, Hallmark Playhouse
Dec 30th: Happy New Year!

Red Skelton Show, World News Today, Our Miss Brooks, Champagne Music of Lawrence Welk, Wild Bill Hickok, Jack Benny Program
---
Previous Programs
Aug 19th: Ben Bernie's War Workers Program, Mysterious Traveler, Charlie McCarthy Show, Speaking of Radio, 11:60 Club, An American In England

Aug 12th: Radio on the Range

Tennessee Jed, Gunsmoke, Straight Arrow, Gene Autry's Melody Ranch, Tom Mix Ralston Straightshooters, Have Gun, Will Travel, Lone Ranger
Aug 5th: Willson-Nesbitt Show, Red Skelton Show, Studio One, Bond Wagon, The World Today, Life With Luigi

Jul 29th: Wild About Harrys

Escape, Speaking of Radio, Jack Benny Program, Our Miss Brooks, Curtain Time