New Releases Spotlight: Week of August 18, 2014
August 18th, 2014
In this week's edition of new releases in the Music Lounge, we've got some great music from bands big and small…
Sean Jones – IM-PRO-VISE

Sean Jones has a new disc out called IM-PRO-VISE on Mack Avenue Records. It's rare that you see a quartet album led by a trumpeter, but this quartet, featuring Obed Calvaire on drums, Luques Curtis on bass and Orrin Evans on piano acquits itself nicely. The song choices range from the fairly obvious ("How High the Moon") to the far less obvious (Jackie McLean's "Dr. Jeckyll") and from beautiful ballads like "The Morning After" to the probing "60th & Broadway," which is Jones' tip of the hat to Don Cherry and Lester Bowie. This is a CD that really rewards repeated listenings, so tune into this one when you hear it on 'DCB Jazz!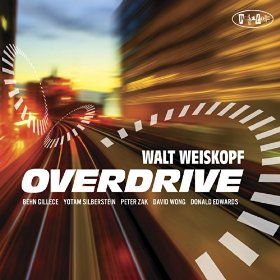 Walt Weiskopf – Overdrive
Walt Weiskopf's latest, Overdrive, is a tour de force. Boasting an impressive group with Behn Gillece on vibes, Donald Edwards drums and Yotam Silberstein on guitar, this album is a barn burner. Even the ballads cook on this thing ("What Are You Doing with the Rest of Your Life" is a real treat here), and when these guys take it up a notch, the results are exciting.

DIVA – A Swingin' Life
Finally, DIVA has a new disc out on MCG called A Swingin' Life. Beyond DIVA's always impressive sound, this time, they brought out special guests Nancy Wilson and Marlena Shaw to help out on a few tunes as well. You'll definitely get to hear their blues medley featuring the classic "Goin' to Chicago Blues" a bunch here on 'DCB Jazz, and the versions of "Pennies From Heaven," "Nothin'" and "Blackberry Winter" are all wonderful as well. Even better, this disc will likely get featured throughout the week on WDCB as Bill O'Connell has been playing this one too on New Vintage.
Thanks for reading, and we'll see you next week in the Music Lounge!